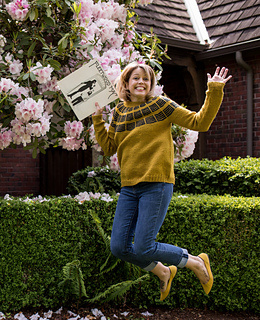 Soundtrack/Soundbite Sweater
Fall Knit a Long (KAL)
October 25 - December 20, 2021

Hello Lovely Knitters!

This must be the year of the Marie Green sweater, as we have chosen another for our next Valley Yarn KAL! We are hoping that you can join us for the fall Soundtrack Sweater KAL! We think you will find the instructions clear and the design sweet, sweet, sweet! Jasmin and Debbie have already made 2……each! This is definitely a first time sweater knitter pattern. If you can knit, purl, knit in the round, and you have knit a few accessories - you can knit this! The sweater is knit in DK weight yarn and is top down and in the round – no seams!

We will have Zoom Knit Nights to answer your questions and share some tips and tricks as we work through the sweater. You don't have to be part of the KAL to join us, everyone is welcome. The first part of each knit night will be discussion pertaining to the Soundtrack Sweater. We will open up the zoom floor so you can ask questions and have some time to visit with the other knitters. If you are unable to make it to the "live" zoom nights, we will record them for you to review for a week or two.

Soundtrack Zoom times from 7-8pm on the following nights: (this pace will get you to the deadline for prizes).
Zoom Link: https://us02web.zoom.us/j/82385579671?pwd=VmYwQmRZN1VSdi9NOWxXZmgvcmhLdz09
Meeting ID: 823 8557 9671. Passcode: 401503
Monday October 25
KAL launch
Winding yarn, gauge, fit/sizing, cable cast-on, (which starts your work immediately on the right side), colour contrast edges
Short-rows – we will demo our favourite – German Short-rows (the pattern uses Japanese short rows)
Modification info for a rolled collar instead of a ribbed collar

Monday November 1 Increases, and how to work the Contrasting Slip Stitches – the TRACKS
Monday November 8 Dividing for sleeves, adjust for body size, stretchy bind offs
Monday November 22 Picking up sleeve stitches, small circumference knitting in the round options
Monday November 29 Blocking – the magic of it all
Monday December 6 Final Show and Tell
Monday December 20 Final day to send finished picture to be eligible for prizes

When purchasing yarn for your sweater – you will receive 10% off – any regular-priced yarn you
want to use. We have a great selection of fibres and price points so come in person or shop
online to find the yarn that is perfect for you! To be eligible for prizes you need to purchase
new yarn from Valley Yarn and finish by December 20. If you want to use some stash yarn – no
problem! (You just won't be eligible for the prizes). Hope to see you soon on zoom!